Guide for the filthy rich
18
Crafted Phones
In this category, we have included popular models, which have been modified in various ways; they may have been gold plated, may have precious stones and/or animal skin added etc. In theory, every phone can be transformed into a masterpiece if you have the will and the imagination needed – for example Nokia 2610 with a sapphire display, a 100ct. diamond for a D-pad and a platinum body. In reality, mainly the most popular models get bling-bling elements added.
GoldStriker
:
Exclusivity for the Fashionista. That's exactly the type of products the English company Gold Striker offers, be it a mobile phone or a music player. The materials used are 18 and 24ct. gold, platinum and 3-4ct. diamonds.
The most impressive collection is the 18ct Gold Diamond Edition. It includes:
Nokia N95 8GB White Gold Diamond
Nokia 8800 Sirocco 24ct gold Diamond
LG Shine Dawn & Dusk
Motorola KRZR Leopard/Roma/Blue Diamond
The idolized iPhone, Prada and Armani also have golden versions and the price tags are not as scary as the ones of the GoldVish models, for example.
Amosu
:
It's the same story here. The company specializes in, adding a diamond shine to models like iPhone, Nokia N95, Motorola KRZR & V3i D&G, BlackBerry Pearl. Unfortunately, you can only buy their phones if you are on a shopping spree in the English cities of London and Manchester. The prices are from $ 960 for Samsung D900, up to $ 91,000 for BlackBerry Pearl.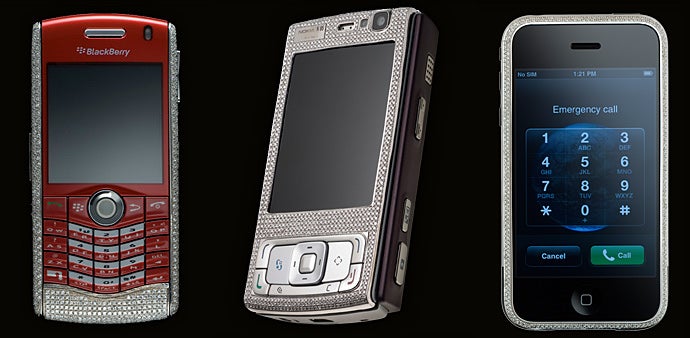 Mart
:
The Russian company has chosen Nokia's showoff 8800 series (8800, 8800 Sirocco) as a base model for their product. On the metal surface of the various phones are engraved the signs of the zodiac and pictures inspired by them, Arab and Celtic symbols, and details of paintings of the great artists. Currently the collections offered are as follows:
Sky Diamonds
Magic of Symbols
Great Artists
The most impressive is the Sky Diamonds collection, which includes 12 Nokia 8800 Sirocco phones, with the zodiac signs engraved on them. There are 99 phones of each design in the collection.
Pricing varies between $ 1,000 and $ 4,000, depending on the model.