Googlers do the Harlem Shake with the Android statues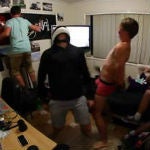 Unless you've been away from the Internet for the past week or so, you've probably seen the Harlem Shake, a dance meme that has been making the rounds. And, it seems that no one is immune to the craze, because even Google is getting in on it. Today, a video has come out of a group of Googlers on the Android statue lawn doing the Harlem Shake.
Well, admittedly, no one on the lawn seems to actually be doing the Harlem Shake (which is less of a dance and more of a controlled seizure), but the pure absurdity of the video makes it worthwhile. But really, when would you get a chance to see a guy in a motorcycle helmet and lederhosen "dancing" in front of the Android statues?