Google unwraps Android holiday wallpapers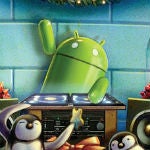 The holidays are upon us and of course it's time for holiday cards, or just tossing your favorite green robot into some cool pictures with a polar bear, some penguins, and what appears to be the abominable snowman. Yep, you guessed it, Google has unwrapped some Android holiday wallpapers for the season.
The images are pretty cool, and if one were so inclined, you could easily use them to make some nice holiday cards for all of your Android loving friends. The images were released on the Nexus Google+ page today.