Google now brings location based news to your phone
9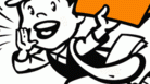 Google has launched a location based news service for mobile phones called "News near you". Using location based data (Gulp!), Google analyzes each word in a story to determine what a story is about and the location of the source. The service bring you stories relevant to the city you're in and its surrounding areas.
And just in case you don't want to be tracked, the first time you use the service there will be a pop-up page that allows you to prevent your phone from passing along your location. If you agree to be tracked, a new section called "News near you" will be added to the bottom of your home page when you head over to
news.google.com
from your phone. If being tracked by your phone freaks you out, you can turn off the service anytime.
source:
Google