Google finally getting around to Wallet prepaid card refunds
5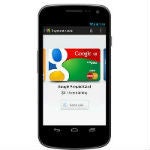 This has been a pretty long journey. So, if you remember, back when Google launched Google Wallet, it had prepaid card support. The prepaid cards turned out to be something of a security threat, so Google
removed support
,
offered $5
of "we're sorry" money to users, and promised refunds. Well, it looks like those refunds could finally be on their way.
Has anyone gotten one of these messages? If so, is December 22nd the standard date given?
We'll check through a bit more, but it looks like refunds could be on the way.