Google Maps for Android updated to make menus friendlier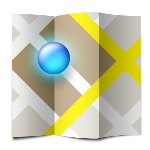 It may not be the biggest update we've seen, but it has the potential to be one of the more impactful updates to the way you use Google Maps and how easy it is to find your way around. The new version was pushed out to the Google Play Store today, and it brings Google Maps to version 6.4.0.
The only change made in this version was in the design of the menu in Navigation mode. The menu has been changed from a list of text-only options to a more touch-friendly version laid out with some icons to quickly help you find what you need. The new layout also keeps all of the options closer to the bottom of the screen, which should make it easier for one-handed use on some of today's larger screened devices.