Get your Motorola Droid quicker, thanks to eBay
This article contains unofficial information.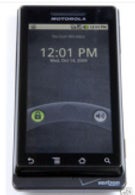 Based on our last report, the Motorola Droid is expected to launch on November 9th by Verizon. If you're the type that has to have everything NOW, you do have an opportunity to get the Android powered handset sooner. At eBay, someone has up for auction a brand new Droid handset in the box, brand new. The last bid was $899.99 and the phone is sent without a contract and shipping is free. An 8GB MicroSD card is included. The auction ends October 29th and the Droid is sent from Glendale, California. Now how badly do you want to show off your Droid before anyone else has it?
Motorola Droid A855 Preliminary Specifications
source:
eBay
via
gadgetell