Get the LG G Pad 8.3 for $326 (£199.99) at UK retailer Expansys
1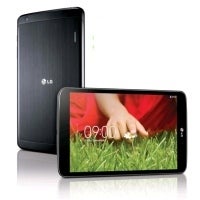 UK retailer Expansys is selling theWi-Fi-only G Pad 8.3 tablet for $326 (£199.99).Of course, the Wi-Fi-only Nexus 7's $286 (£176.00) goods-to-priceratio is yet to be beaten, but for an additional $49 (£30), you willget a more powerful, better-designed device with a bigger display.Then again, the Nexus 7 is blessed with the advantage of almostzero-day Android updates, while the G Pad is still running on JellyBean.
Meanwhile, the competing iPad mini withRetina display is priced at a hearty $520 (£319) in the UK. In theUSA, it costs $399, which is how much Samsung's upcoming Galaxy TabPro 8.4 will retail for in the States. Therefore, Brits should expectSammy's latest 8-incher to be priced in the same ballpark.
If you are considering the G Pad 8.3,make sure to read Phone Arena's thorough review.
via UnwiredView