Gameloft brings Dungeon Hunter 4 to BlackBerry 10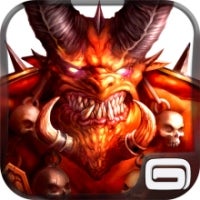 Gameloft has brought more gaming goodness to the BlackBerry connoisseurs. The publisher released Dungeon Hunter 4 for BB10, a great-looking dungeon crawler, previously available on the Android-iOS-WP8 Holy Trinity of mobile platforms.
Gameloft recommends DH4 to fans of hack'n'slash, action RPGs, dark fantasy games and multiplayer fights. This is a free-to-play title that features a full storyline, four types of warriors, upgrades and customizations, along with multiplayer battles. It weighs in at a mammoth 812MB, which means there's plenty to see, hear, and slay in there.
The game is officially compatible with the BlackBerry Z10, Z30, but it also runs on the Q5 and Q10. The performance seems to be decent for such a graphics-intensive game.
Witness the trailer and download Dungeon Hunter 4 from the link below.
Download DH4:
BlackBerry
via
BerryReview