Galaxy Note 9 liveblog: follow the announcement live!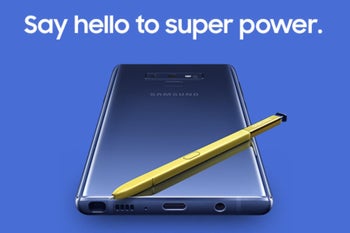 Welcome to our Samsung
Galaxy Note 9
liveblog! This is the place where you'll be able to follow the announcement event with minute-to-minute text and image updates. If you'd rather watch the whole thing on video, feel free to head to our
Galaxy Note 9 livestream
post where you'll be able to do just that.
Alternatively, if you've come here a bit early, now would be a great time to quickly go through our
Galaxy Note 9 rumor review
, where we take a look at all the plausible (and some not so plausible) leaks and rumors surrounding Samsung's upcoming smartphone.
EVENT START TIME: 11 AM Eastern | 10 AM Central | 8 AM Pacific | 3 PM GMT | 5 PM Central European

Live event tracker
| | |
| --- | --- |
| 11:08 | That was all, folks. Thanks for tuning in. Be sure to go straight to phonearena.com for our Galaxy Note 9 coverage! |
| 11:07 | |
| 11:07 | "Thank you, there is no one like you. And there's nothing, like the Note. Thank you!" |
| 11:06 | A phone, a phone, and a speaker. And a new music partnership. That is what Samsung announced today. |
| 11:06 | |
| 11:05 | Koh: I'm excited to announce that the Galaxy Note 9 will be available on August 24th. |
| 11:05 | Guess who's back, DJ Koh! Congratulating Daniel Ek, Spotify CEO, for the new partnership! A new ally in the war aga… twitter.com/i/web/status/1… |
| 11:04 | "At Spotify, we're really excited by what we're launching now." |
| 11:03 | Hopefully this will change by the time these things reach market. |
| 11:03 | With the live demo they did, the song unfortunately started again from the beginning, it didn't start from where it was. |
| 11:02 | As you're listening on your phone, if you enter a room with a Galaxy Home, for example, a simple prompt will ask you to switch the device. |
| 11:01 | "The partnership we're announcing with Samsung today, is a true cross-platform listening experience." |
| 11:00 | |
| 11:00 | |
| 10:59 | And surprise surprise, it's Spotify! |
| 10:59 | Samsung has been looking for a new music partner for its multi-device ecosystem. A multi-year commitment. |
| 10:58 | According to Samsung, "Today, half of all millenials listen to music on at least three different devices." |
| 10:57 | |
| 10:57 | Drew Blackard, the guy who presented the Note 9 to you, is back on stage. |
| 10:56 | Apparently though, Samsung is not ready to reveal much about the Home yet. That's all we get, with more info to follow later. |
| 10:55 | The Galaxy Home has 8 far-field mics so you can use Bixby from across the room. |
| 10:55 | Do you like the Lunar lander design? |
| 10:55 | Harman natural sound processing, tuned by AKG. |
| 10:54 | Cool, 160 Galaxy Home speakers managed to deliver the great audio that was just heard in the venue! |
| 10:53 | Here's the Galaxy Home! |
| 10:53 | And here comes yet another new product: a device that combines Bixby and great sound! |
| 10:51 | You can book tickets, reserve tables, call a Uber, straight from Bixby. |
| 10:50 | Samsung is partnering with Yelp, Google Maps, etc. so even if you don't have those apps installed, Bixby will still use them for results. |
| 10:48 | For example, if Bixby already knows you like French cuisine, asking it about good restaurants around should deliver related results. |
| 10:47 | Here comes a live-demo of Bixby's new features. Apparently, it's getting better at knowing places/events, and conve… twitter.com/i/web/status/1… |
| 10:46 | Oh look, it's your friend, Bixby! |
| 10:45 | With the new My Day watch face, the watch puts your calendar first. |
| 10:44 | |
| 10:44 | Breathing prompts, and exercise recognition are on board. Many different types of sports are supported, but 6 can b… twitter.com/i/web/status/1… |
| 10:43 | The new Galaxy Watch is built with low-power technologies all over. Samsung promises "several days" of battery life. Hmmm.. |
| 10:42 | |
| 10:41 | A high-resolution screen and Corning Gorilla DX Plus glass on top of this thing! Also – "military-grade" durability. |
| 10:40 | |
| 10:40 | |
| 10:40 | And now, senior director of marketing, Elina Vives is on stage to reveal the new Galaxy Watch! |
| 10:39 | Here's a cool feature: DeX will now work just with a cable! Plug it into the Type C port and into an HDMI, and there it goes! |
| 10:32 | The S Pen charges when inside the Note 9. Just a few seconds gives you 30 minutes of charge! |
| 10:31 | The S Pen SDK will soon be open to all developers, so they can integrate the remote functionality with their apps. |
| 10:30 | Play/Pause videos, switch slides on a presentation, use it as remote shutter for the camera, all sounds nice and useful. |
| 10:30 | With Bluetooth support, the S Pen will make for a great remote with the Note 9. Nice! |
| 10:29 | |
| 10:29 | Jonathan Wong is now on stage to talk us through the new S Pen. |
| 10:29 | |
| 10:28 | A new intelligent mode for the camera will try to optimize the picture quality depending on the scene. Thanks for n… twitter.com/i/web/status/1… |
| 10:27 | |