Fujitsu Siemens pocket LOOX T810 / T830 – specs and photos revealed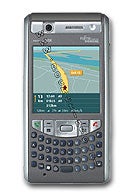 Some details as well as photos of the new Fujitsu Siemens pocket LOOX T-series were revealed by Pocketinfo. The new LOOX series come in two versions - T810 and T830. The only difference between the two models is that T830 is equipped with 2 mega pixels camera with video capture, whereas T810 is not. Both models are said to be bar-designed GSM/UMTS devices. The main features are:
color Touchscreen display

QWERTY keyboard

Bluetooth v. 2.0

Windows mobile 5.0 AKU2

128MB ROM and 64MB RAM

SiRFIII GPS receiver

Wireless LAN 802.11b/g
The pocket LOOX T810/T830 are expected to be officially announced on 13 February at the 3GSM World Congress, according to Pocketinfo.
Source: Pocketinfo