From the 'Stick an Apple iPhone 5 to the ground and see who tries to pick it up' files
27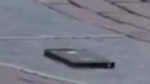 We know. Sure we do. When you were a wee little lad, you used to glue a quarter on the ground to watch fools try to pick it up. What jollies you would get. In Amsterdam, the pranksters from iPhone5.nl decided to raise the stakes and glued the new
Apple iPhone 5
to the ground in a public square and filmed the action.
People tried kicking the phone free, others bent down and tried to remove it, but to no avail. Most seemed to give up rather quickly. Some things about the video did stand out. When they were prepping the Apple iPhone 5 for its, uh, task, we can see
just how thin
this phone really is.
There are plenty of things that people can do for fun in Amsterdam, and apparently watching people make fools of themselves is one of them.
source:
TheNextWeb
via
Gizmodo