From premium to dust - watch what a Blendtec blender does to an Apple Watch
18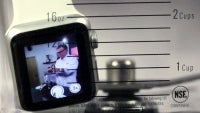 Poor Apple Watch! It was delayed. Dropped. Dunked. Scratched. Covered in catchup.
Brutally disregarded
. The only thing it was spared from was ending up sliced and diced inside a Blendtec blender. But the smug Tom Dickson, whose videos of obliterating things in his company's blenders went viral before viral videos existed, gets his hands on the Apple Watch and does what he's done to almost every Apple product before it. Blend it into non-existence.
Frustrated by its long shipping times, Dickson spares the Watch no mercy. As expected, the Blendtec blender turns the wearable into entirely non-breathable dust! Content with the result, Dickson takes sinister aim at the upcoming Apple Car - the blender can take care of it too, the Blendtec founder reckons!
The 100% scientific footage showing the gruesome aftermath of blending an Apple Watch is available for the public below:
via
MacRumors