Free calls to Haiti from your Verizon´s prepaid card
1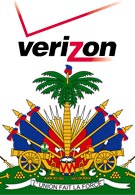 Last week
Verizon
announced that all calls to Haiti, be it from landlines or cell phones, were completely free of charge so that people could get in contact with victims of the disaster more easily. The initiative is to continue until January 31, 2010.
Yesterday Verizon stated that they were expanding the service by allowing owners of prepaid cards to call Haitian numbers for free as well. This is great news indeed, since many people prefer to use prepaid cards for long-distance calls. The offer will be valid in the period January 25 - February 14.
We would like to remind you
that anyone can help the Haitian relief efforts and donate $10 by sending the word "HAITI" as a text message to 90999.
source:
Verizon Wireless