Free app turns your Android or iOS device into a second screen for playing MGS V: Ground Zeroes
4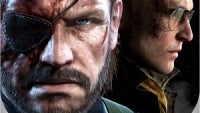 Hot on the heels of Metal Gear Solid V:Ground Zeroes' release for Microsoft and Sony's consoles comes a freecompanion app for Android and iOS devices. With it, your smartphoneor tablet connects to the game via Wi-Fi and joins the experience asa second screen.
As you sneak and gun your way throughthe game's levels as Solid Snake, the app displays an in-game map,and lets you call helicopter support, listen to music and intelrecordings, see your stats, and even play a stand-alone mini-gameabout building your own Mother Base. The last mode plays like amini-Starcraft where you build a stronghold, gather an army and sendtroops on battles across the globe. Neat!
The app is free and is available fromthe links below. MGS V: Ground Zeroes is out for PS3, PS4, Xbox 360and Xbox One.
Download MGS V Ground Zeroes: Android| iOS
via Pocket-Gamer