Foxconn acquires 350 acre site in Brazil
2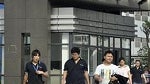 Well known for making Apple's iPhone and less than lavish working conditions, Hon Hai, as the company is formally known in Taiwan, makes countless other computer components and also assembles devices for Sony and Nokia.
The emerging markets in South America are making a very attractive environment for manufacturers and Brazil is leading the charge with favorable taxes and a fast growing economy. Foxconn already operates four factories there, and has just acquired a 350 acre site from Toulouse Incorporacao SPE LTDA for about $12.6 million as part of the company's effort to expand operations in South America.
Foxconn has stated plans to invest about half-a-billion dollars in Brazil to build new facility which will produce smartphones, tables and other components. Brazil is South America's largest economy and has attracted large investments as a viable alternative to operations in China.
source:
The Times of India