Foxconn accused of firing employees because they are suicidal
16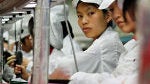 Foxconn cannot escape the controversy around its working conditions and the troubling reports of employee suicide. The company has even gone so far as to install giant nets to catch employees that attempt suicide by jumping off of the facility buildings. Now, a new report is accusing the company of firing employees who are perceived to be suicidal.
The story comes from a 27-year old ex employee named Zhang who says that he was simply taking sleeping pills because he had insomnia, but a coworker reported him as possibly being suicidal. Zhang was brought to the hospital on April 2nd, and the next day, Foxconn fired him for supposedly "disrupting order".
Foxconn has not responded to the allegations.