Foursquare updates BB 10 app with new look and food delivery services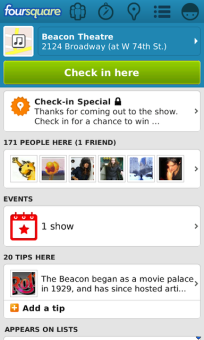 BlackBerry users, check in! Foursquarejust updated its BB10 app with a refreshed look and improvedperformance. The latest version of the social app boasts a newhighlights carousel and new venue and profile pages. There are alsointegrated delivery options for Grubhub and Seamless users. Yes, eventhough the BlackBerry foodies are yet to be treated to a nativeInstagram app for BB10, ordering meals across the United Statesshould be a breeze.
Sadly, we couldn't find a change-log,and our office manager is keeping to his precious BB Q10 like amother bear protects her cubs (he's afraid we'll steal its awesomekeyboard), so it will be up to you, 'Berry loyalists, to discoverother intricacies in the updated app. It's available from the linkbelow.
Download Foursquare: BlackBerry10
via BerryReview