Former BlackBerry CIO Robin Bienfait to handle innovations at Samsung Communications USA?
5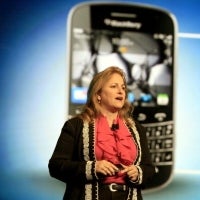 In an interesting turn of events, itappears BlackBerry's former CIO (Chief Information Officer), RobinBienfait, will be coming out of her one-yearretirement to get the title of Chief Technology Innovations Officerat Samsung Communications America. This information is yet to be officiallyconfirmed.
Mrs. Bienfaitretired from her position at BlackBerry in December 2012, afterserving the Canadian company for five years. Given her previousexpertise and eventual position at Samsung, it is likely she will beinvolved with the Korean firm's KNOX security enterprise technology.
Prior to joining BlackBerry, Robin Bienfait held senior leadership positions within AT&T Labs andGlobal Network Services. She graduated the Georgia Institute ofTechnology with a Master's degree in Management of Technology. Shealso holds a Bachelor's degree in engineering from Central MissouriState University, and an Associate in business degree from MarylandUniversity.
source: CrackBerry