Flygrip hands-on
9
This story is sponsored by Flygrip. PhoneArena's opinions in this article have not been affected in any way!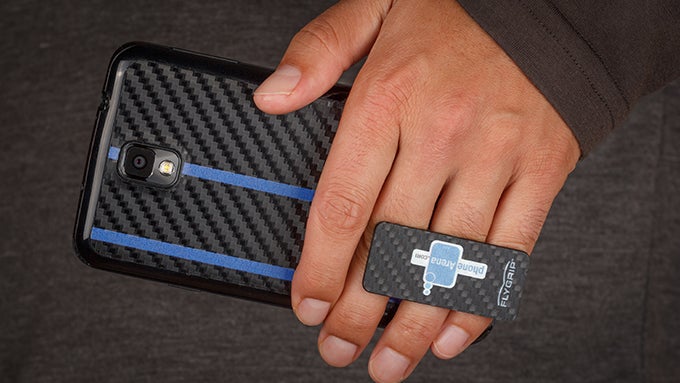 One-handed operation is a real and present danger with those big screen smartphones of late. Try to balance a 5"+ handset on your pinky, grabbing to reach the back key to the left under the display (looking at you, LG and HTC!), and you'll know what we mean. Or try to lift and tilt the slippery brushed aluminum chassis of the
HTC One
on the way to your ear, and you'll long for some extra grip.
Design
This is precisely what the Flygrip accessory is offering - a way to steadily hold your handset, leaving room for your thumb to operate the screen freely, instead of clutching its base for a tighter grip. When adhered to the back of your handset with the tough 3M adhesive, it represents a small bulge that lets you pull the phone quickly out of your pocket. Afterwards it takes a split second to push it open and insert two of your fingers in the tailored openings, allowing for firm and secure holding of your phone or small tablet, and easing one-handed typing or general operation of the touchscreen device.
Flygrip has thought about handsets with glass backs, like the
Nexus 4
, or different textures, like the fake leather on the
Galaxy Note 3
, too. In this case it provides special cases tailored for the phones in question, so you can enjoy the firm hold of the Flygrip and at the same time have your phone or phablet protected from dings and bruises.
Functionality
The new Flygrip Gravity closes with a reassuring click, thanks to the magnetic locking mechanism, so no flapping around once it is pushed up and closed. In addition, it can serve as a kickstand for phones and most tablets in both orientations, which can come in handy for watching videos, during video calls and so on.
The accessory can also be installed off-center, which comes in handier when you have a 5.5"+ handset, for instance, as it allows you a fuller range of motion. This is similar to scooching the keyboard or dialer left or right on phablets for easier one-handed operation - a feature that finds its way in more and more manufacturer interfaces recently.
All in all, the new Flygrip Gravity edition leaves a positive impression with a sturdy and fairly elegant build that comes in many hues. If you are eyeing one of these already, you are likely not bothered by a bulge on the back of your handset, but going for the functionality that comes with the Flygrip, and maybe a little bit for the "Made in USA" tag that comes with the inventive accessory.
The Flygrip Ultra comes in two sizes - Medium and Large - depending on how thick your digits are, for added comfort. Right now the Flygrip cohort sells in all of its multiple colors for $29.95, with a complimentary case for every Samsung handset to boot, while supplies last.