Five picturesque alternatives to the Photos app on your Android smartphone or tablet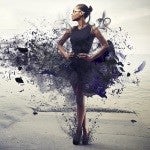 Some of you are perfectly fine with the Gallery app that came pre-installed on their Android devices, nevermind if it's cooked up by its manufacturer or sourced from Google. Others, however, couldn't care less about the Google+ integrated Photos, the simple stock Android gallery, or whatever else is present on their device.
Thankfully, Google Play is rich with alternatives to any ol' Gallery applurking on your smartphone or tab. Indeed, most of them to the same thing (browse photos) equally well, but creative developers keep coming up with new functionality to compete. Whether it's gesture-based controls, tight integration with cloud services, or smart grouping of photos in albums according to different attributes (say, time and place), you've always got something to consider. So, have these five gallery apps for starters. They are pretty nice and quite popular already!