First Samsung Galaxy Round hands-on appears
43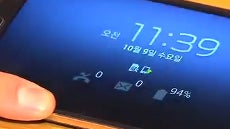 Samsung's curved
Galaxy Round
phone got announced today, and immediately got a hands-on treatment, showcasing how the phone looks apart from the press renders, and delving deeper into the usage modes made possible by the curved display.
It gets sized up with the Note 3, looking very much alike, save for the stylus silo, and, of course, the bendy nature of the Galaxy Round. Fumbling around the interface looks as typical as on any Android phone, and the user demonstrates once again the
Roll and Gravity effects Samsung made possible
with the curved phone.
Anyone willing to guess what are those bendy things shown at the end? They look like a prime candidate for
LG's new Curved Battery technology
that might be going into the
G Flex
handset, and the into indeed says LG, but we give up on the other hieroglyphs there.