Figo Gravity hands-on
1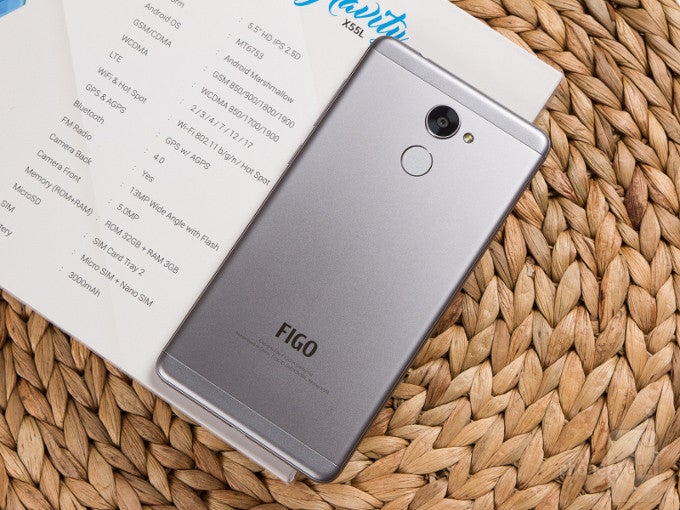 This story is sponsored by Figo. PhoneArena's opinions in this article have not been affected in any way!

The market for unlocked phones in the US is growing leaps and bounds, with some estimates pegging it at more than 20% of the overall demand, mainly thanks to flagship iPhones, Pixels and Galaxies sold SIM-free at full price, but also to brands like BLU and Figo.
The last two fill the need for affordable unlocked handsets, and Figo has a new
Gravity
GSM model for use on AT&T and T-Mobile that comes at a sub-$200 price along with freebies like a case and a screen protector. How does it look and behave up close and personal, though? Well, we took the Figo Gravity for a quick preview, and here's what we found.
Design
The minute you take the Gravity out of the box, it becomes clear that this is the most premium phone that Figo has designed to date. Crafted out of metal, with two antenna sections at the top and bottom rear in a darker shade of gray, it exudes a solid and quality feeling in the hand. The phone has a 5.5" display, so it's not a small device that is easy to operate with one hand, but it sits well in the palm, despite being a tad wider than your typical 5.5-incher. Figo even included a rear finger scanner and infrared blaster up top, as well as an LED notification light, which is as good a setup as it gets for a sub-$200 phone.
The metal power key and volume rocker on the right are solid and well-placed, easy to feel and press without looking, and with deep tactile feedback. There is a regular microUSB port at the bottom, so your standard cables would work with the Gravity, though it throws a flat one in the box, along with a standard charger, in-ear headphones, and a SIM ejector for the tray on the left of the dual SIM phone that can host two SIMs, or a memory card and a SIM card.
Display
Figo went with a 5.5" HD 720x1280 pixels display which may not be as sharp in terms of pixel density as the 1080p varieties, but will put less strain on the battery and graphics subsystem. The screen does the job in terms of viewing angles, but is nothing to write home about when it comes to color presentation, as it leans towards the cold side of the spectrum.
Interface
The Figo Gravity runs on nearly stock 6.1 Marshmallow version, which would please Android purist and annoy those who expect more features from their interface, or iconography that is not flat and colorful. The Gravity, however, does include some really nice touches, like a full suite of gesture controls for locking/unlocking the device by swiping or double-tap. It also comes with the Peel remote control app preinstalled, to make a good use out of the IR blaster at the top.
Processor and memory
Figo utilizes an octa-core Mediatek chipset, coupled with 3 GB RAM and 32 GB storage, expandable via a microSD card. Again, a very good setup for the price point, and we found the default Android interface to run smoothly, with only an occasional hiccup and stutter here and there. App loading times are decent, and the phone would run most games well, though the screen resolution leaves something to be desired when gaming.
Camera
The Gravity arrives with a pretty standard camera setup - a 13 MP main shooter with flash and a 5 MP selfie camera. The camera does come with phase-detection autofocus which promises minimal shutter lag, as well as HDR mode, which takes 3-4 seconds between shots. The Gravity is also capable of 1080p video with 30fps and electronic stabilization.
Expectations
The Gravity is Figo's best phone effort to date, with its solid metal body, stock Android overlay, and a large battery. The phone leaves little to be desired at its $179 price point, save for the screen resolution, but you get extra battery life out of the 3000 mAh juicer, for that matter.
Figo will be selling it exclusively on Amazon, with $30 worth of freebies tacked on, like a case and a tempered glass protector, so if you are looking for a well-rounded dual SIM device to hook you up to the T-Mobile or AT&T networks in the US without pesky device installment plans, the Gravity is one of your best SIM-free bets out there.