Fake movie trailer spoofs Angry Birds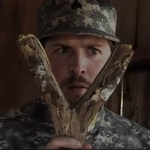 The guys over at RoosterTeeth.com have come up with a movie trailer that is so good, it's too bad that it is a fake. The plot seems to center on a murder investigation, top secret government weapons, pigs, and of course, Angry Birds. It is the kind of trailer that makes you say, "I'm going to see this when it comes out."
So grab that bucket of popcorn and that large cup of soda, sit back and enjoy the coming attraction for a movie that you won't find at a theater near you.
source:
iOSnoops