Fake iPhones are 'shocking'
11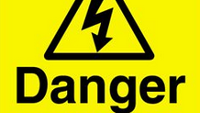 In Australia, the Customs and Border Protection Service has confiscated a quantity of Apple iPhone knock offs that have quite a kick to them. You see, the devices can't make a phone call, but they can act as a taser and shock someone whenever they are pressed to their skin. The customs department arrested the guy who brought them into the country, along with shocking devices deigned to look like a flashlight.
There are two different models of the zapping iPhone fakes, neither of which should confuse anybody into thinking that these counterfeits are legitimate. And while it is unknown whether or not the shock given off is as powerful as a zap from a police-issued taser, we wouldn't want to be the one testing that out.
You can take a look at both of the fake iPhone models by checking out the slideshow below.
source:
TheRegister