Facebook updated in the BlackBerry Beta Zone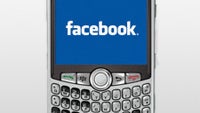 Those of you that manage your social life from the comfort of your 'Berry might want to check out the new Facebook update RIM just added to the Beta Zone. The new update, version 3.2.0.5, offers a few new features and enhancements, mostly revolving around friend's birthdays.
According to RIM the features include:
• Ability to link all Facebook friends' birthdays to your BlackBerry Calendar
• Previously integrated birthdays in the calendar are removed when birthday integration settings are changed
• Ability to select which friends' birthdays appear in the device calendar
• Ability to see friends birthdays in chronological order from the current date
RIM also said that another update will be coming soon that will allow you to access Facebook Events from your BlackBerry and update the icons in the Navigation Grid. You can check out
the update in the Beta Zone here
.