Facebook may start pushing notifications to iOS users reminding them to update their status
11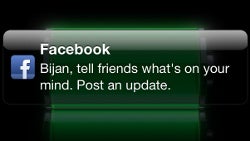 Now, now, relax, such a feature is indeed in testing, but that doesn't mean that it'll ever make it to the official Facebook app for iOS. Still, it's good to be informed that we may soon need to disable push notifications for our Facebook apps.
Bijan Sabet, an individual working as a general partner at Spark Capital, has obviously been among the lucky few to receive the experimental notification urging him to update his profile and let his friends know what he's up to. Later, a Facebook rep has confirmed to Mashable that this is a "
small test we're running
", but users shouldn't be too worried right now, as it isn't certain that the feature will get a mass roll-out.
How would you react, if your Facebook app suddenly starts "reminding" you to update your status every once in a while?
via:
TUAW