Facebook for Every Phone allows you to use the social network on more than 2500 handsets
9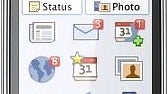 A new Java app from Facebook has been created for use on more than 2500 phones, and uses less bandwidth than other access solutions, says the FB team. Data traffic generated by
Facebook for Every Phone
will be free for the first 90 days of usage on some carriers, including Three UK, but none in the US.
The app allows you to play around with all of Facebook's basics like News Feed, Inbox, and Photos, while enabling you to upload photos directly from the phone, as well as find friends from your handset's contacts.
Facebook for Every Phone can be downloaded from the social network's mobile version of the site, or by entering
d.facebook.com/install
directly in your mobile browser. GetJar, Appia and Mobile Weaver application stores also have the app in their catalog. Watch how to install Facebook for Every Phone in the video below.
source: Facebook