Facebook for Android gets another upgrade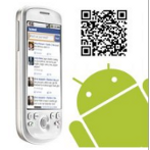 Android users once again have another upgrade for the Facebook app. Now, pictures can be posted on your friend's wall or on a group's wall. And when a photo is posted, the orientation of the snapshot is automatically adjusted. Another improvement was made to the app when in landscape mode. Of course, the upgrade also takes care of the usual minor bugs.
Version 1.5.2 for Android is now available in the Android Market. Let us know if you like the new upgrade by dropping a comment in the box below.
source:
Facebook