FCC approves Samsung S105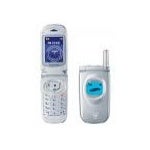 FCC approved Samsung S108 wireless phone for use in US.
Considered to be one of the most advanced GSM phones currently availble, the phone provides tri-band capability - 800/1800/1900 MHz (900/1800 MHz are European bands, while the 1900Mhz band is used in US), J2ME capability, MMS, second display located on the front and only 3.36 oz. According to the FCC pictures, the phone will be originally sold by T-Mobile Wireless (VoiceStream).