Experiment shows iPhone moisture indicator is all washed up
This article contains unofficial information.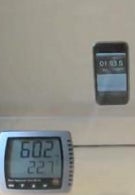 We've all heard the horror stories from iPhone users who were refused warranty coverage on their handset because the moisture indicator had turned red even though the phone did not get wet. It could be that these unfortunate (and poorer) people were telling the truth. Like the Scarlet Letter, the red moisture indicator is supposed to show that someone did something wrong and all the world now knows. In the experiment that you will see in the video, even though the iPhone meets the specs for wetness and other weather related conditions, the indicator turns red. If you live in a cold environment or in an area with harsh weather, make sure you cover up your iPhone to save your warranty.
Apple iPhone 3GS Specifications
|
Review
source:
MojeJabluszko
(Translated)