Exclusive images of the Motorola Barrage V860 PTT phone
This article contains unofficial information.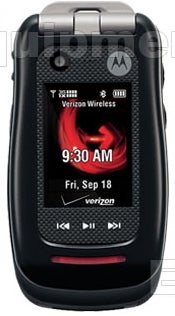 Motorola Barrage V860
and the
Casio G'zOne Rock C731
. We're not sure which one will see the light of day first, but some new pictures of the Motorola Barrage were leaked today, showing that it will have a black-rubberized texture on the exterior, which should help with its durability, though we not sure if it will meet Military specs like the Casio Rock. It still features a large internal and external display, front music control buttons, microUSB port, 2.5mm headset jack, microSD memory card slot, and will be sold with and without the 2MP camera.
Thanks to a friend for the info and pictures!
If you have some interesting info that you'd like to share with us, feel free to
Tip Us!