Evite finally arrives for Android, takes the legwork out of throwing a party
0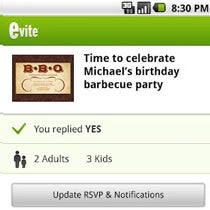 You know Evite, the service that allows you to send mass event invitations to even your most remote acquaintances for a last-minute birthday bash your friends convinced you to spend money on.
Now you can have that experience right from the comfort of your Android device. The Evite app has been in the App Store for a while now, but the service owners didn't think Android users need to socialize too every now and then.
Evite for Android allows you to choose from a number of invitation card designs to lure the party crowds - from soft and rosy ones to ensure as many girls show up as possible, to BBQ-themed that leave no doubts about your true intentions to kick back, watch the game and sip on Sam Adams.
source:
Evite
(Google Play Store)