Everything is bigger in Texas-even The Angry Birds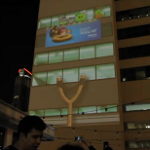 There is no question that The Angry Birds have become big stars. How big? Oh, let's say about 150 feet high. That is the size of the wall that the game was projected on to in Austin, Texas thanks to a joint effort between Nokia and Rovio. The "Spectacular" was made using 3D projection mapping at a NokiaConnects party.
At the same time, Nokia took advantage of the captive audience to promote the Nokia N8 on the huge wall and also advertised that new levels for Angry Birds is coming to the version of the game available at the Ovi Store.
source:
YouTube
via
Facebook