Everything Everywhere to get the XPERIA Play in the UK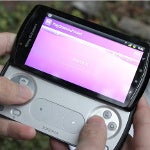 Everything Everywhere, a joint ventureof T-Mobile UK and Orange UK, is rumored to sign the Sony Ericsson XPERIA Play, previously known as the PlayStationphone, for the joy of all UK gamers. The device has been makingheadlines with spied videos and reviews from Asia in the past two months. Its launch isanticipated during the Mobile World Congress in Barcelona thisFebruary.
Orange, the carrier's "premium"brand, is believed to get the XPERIA Play. The phone is expected withAndroid 2.3 Gingerbread on board with a proprietary Sony Ericssoncustomization. A dedicated PlayStation app will access games, whilesome apps like RomBuddy have been shown to run titles like Resident Evil 2and Ridge Racer bringing us back to the times of the originalPlayStation.
There is still no official launchdate, but it is just weeks until the MWC kicks off, so stay tunedfor more details.
source: Mobilevia RegHardware