Eventbrite's At the Door project for the iPad makes for a box office on the go
0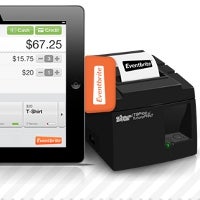 Eventbrite's At the Door project for the iPad takes cards and can issue tickets with the optional printer. Eventbrite charges a flat 3% fee for the transactions.
You can sell tickets, merchandise, and so on, and the credit/debit card adapter reminds very much of the
Square
or
PayPal
readers. The app allows you to sync with your Eventbrite account, so you can watch the onsite ticket sales grow alongside the online ones.
The optional Star printer costs $298, and connects to your iPad wirelessly. Against the 3% fee it collects, Eventbrite fights fraud and chargebacks on your behalf, and the $10 upfront cost for the card reader gets matched with a ten bucks credit to your account.
These should reach every self-made Soapbox orator in London's Hyde Park that has a solution for the world's energy problems - right now these guys are performing for free.