Eten drops WM6 for Glofiish phones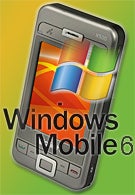 Eten is now officially offering for download Windows Mobile 6 upgrades for its two Glofiish phones, the X500 and the M700. The two PPC were initially launched with the Windows Mobile 5 for Pocket PC Phones but now the ROMs will upgrade them to Windows Mobile 6 Professional, which fixes bugs, adds functionality and optimizes for better performance.
You can download the new ROM directly from the
manufacturer's website (click here)
, after you have registered your device by its IMEI number.