Eten announced the 3G-less M750
1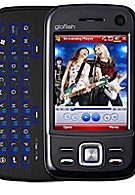 Today, Eten officially "announced" the Glofiish M750 and M810. Actually, the M810 was introduced back in February, and was
even showcased at MWC 2008
in Barcelona, Spain. The two phones are absolutely identical in their design and functionality but the M750 is only quad-band GSM, without support for 3G.
As the glossy design and the RAZR-like cut QWERTY keyboard hint us, those phones are targeted at the mass market, instead of at high-end enterprise customers. With GPS, WiFi and Windows Mobile 6 Professional OS, they are suitable for bloggers and chatters who not only want to stay connected, but have the benefit of a smartphone.
Both the Glofiish M810 and M750 should be available worldwide in two to three weeks.
Glofiish M750
Specifications
Glofiish M810
Specifications
source:
Eten