Ernie and Bert wave hello as Google puts DROID ad on home page
This article contains unofficial information.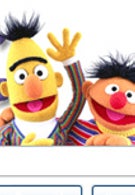 The Google home page is sacred internet real estate. Think of all the eyeballs on the page as worldwide, people are running the search engine. This is why you normally do not see any advertisements on that page. Last year, on the day of the G1 launch, Google placed an ad for the device, but after all, that was the first handset running on Google's own open source Android OS. Today, with the release of the Motorola DROID, Google has decided to place an ad on the home page again. We could point out that the DROID is the first handset to run on Android 2.0. The ad, which no longer graces the Google home page late Friday evening, was seen only in the U.S. Now if we can only so something about Ernie and Bert!
Motorola DROID Specifications
|
Review
source:
Google
via
EngadgetMobile