Epic 4G gets Samsung Media Hub upgrade OTA; prices start as low as $1.99 for T.V. shows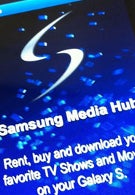 Thanks to an OTA upgrade sent out by Sprint, owners of the Epic 4G can now purchase or rent television shows or movies from the Samsung Media Hub store. A 24 hour movie rental will cost you $2.99 to $3.99 while you can purchase a movie for $9.99 to $17.99. Television shows start as low as $1.99 with some net-day episodes available.
Earlier this week at a press event in New York, the Korean based manufacturer said that content partners for the Media Hub store are MTV, NBC, Paramount, Universal Studios, and Warner with others to join in the future. The service will be made available to all Galaxy S smartphones and the Galaxy Tab Android tablet.
source:
MobileBurn