Eli Manning scores with funny SNL skit on texting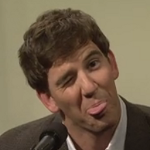 New York Giants QB Eli Manning made an appearance on Saturday Night Live this weekend and during one funny skit
the Super Bowl MVP signal caller took a shot at texting
. Playing the defendant in a criminal trial, Manning is on the stand explaining things like emoticons and sexting, two subjects that many of you out there are familiar with
We're pretty sure that Manning isn't going to be winning an Emmy anytime soon although he did turn in a passable performance (see what we did there?).
The guy owns New York
right now after winning his second Super Bowl. If you need a laugh as we head into the end of the weekend and the start of a brand-new work week, don't hesitate to call Eli's number.
source:
Gizmodo