Elephone Vowney hands-on
6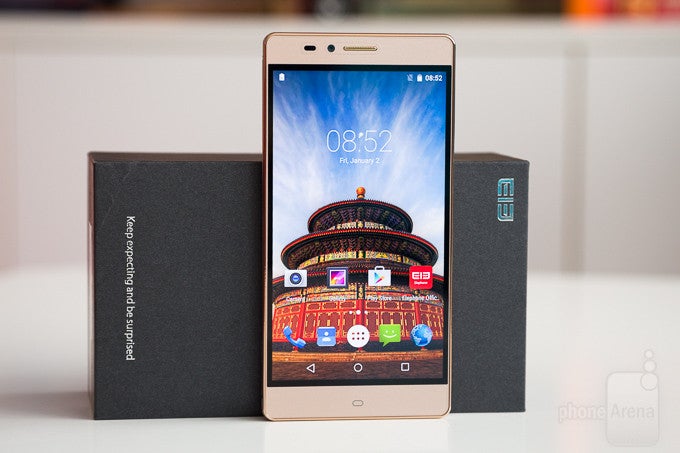 This story is sponsored by Elephone. PhoneArena's opinions in this article have not been affected in any way!
Elephone is an enterprising Chinese smartphone maker who's already achieved a good level of awareness in its homeland. Now, one of its latest phones, the Vowney, is a specs-intenseive smartphone that's supposed to pack more punch than the price of $300 (sans shipping and import taxes) suggests. Well, does the Vowney punch as hard as the big boys, or there's something holding it down? Here are some impressions from the hands-on time we had with it.
Design
Relatively thick and bulky, the Vowney doesn't impress with design and build quality. There are much nicer smartphones in this segment, such as the $250 OnePlus X, or the ~$300 LG G3.
Display
Your window to the Vowney's Android soul is a 5.5-inch, 1440 x 2560 resolution IPS LCD panel. The picture is clear, the screen is bright, and we're quite fond of the ability to freely adjust image properties, such as contrast, saturation, sharpness, and color temperature.
Interface
5.1
Lollipop build. Save for the display calibration software, the camera app, and an unassuming promotional app, the manufacturer hasn't tampered with what's already a fine mobile operating system.
Hardware
The Elephone Vowney recruits the MediaTek Helio
X10
(MT6795) system chip, paired with 4GB of LPDDR4 RAM and 32GB of eMMC storage. The handset does a good enough job handling most tasks you throw at it, be it casual use or intense 3D games. However, there's a mildly annoying stutter in menus and applications, which feels out of place considering the Vowney's competent spec sheet. The handset also gets noticeably hot under more demanding usage.
You should also check carefully whether the Vowney supports your local carrier's networks, if you're interested in it. Connectivity-wise, the Vowney can carry a microSIM and nanoSIM card, or a microSIM card and a microSD card simultaneously.
Camera
To furnish the Vowney's photography department, Elephone walked out the Sony store with a 21MP IMX 230 sensor for the rear camera and an 8MP sensor for the selfie cam. The rear camera is joined by a dual-tone LED flash and has fast phase-detection autofocus, along with the ability to track a single object from the scene, chosen by you. The camera is quick to start and is able to take photos in resolutions ranging from 1MP all the way to 21MP. The application's interface is uncluttered and reduced to the essentials, although the lack of manual controls will be disappointing to some. As for video recording, the Vowney can reach up to 4K resolution.
Expectations

At $300 (prior to shipping and import taxes), the Elephone Vowney could present "bang for the buck" value, depending on what you want from a smartphone. The build quality is okay, but not the best, and the stock Android build with no clear update policy may be too bare or confusing for the non-power user. Those prioritizing great design should definitely look elsewhere, but hardware enthusiasts may be intrigued, for the Vowney has a competent set of specs with its high-res screen and fast processor.




If you are interested in another decently spec'd, yet affordable Elephone product, you might be pleased to know that the $270 Elephone P9000 is up for pre-order, with a special auction taking place starting today. Learn more about this

here

.