Elephone P9000 hands-on
21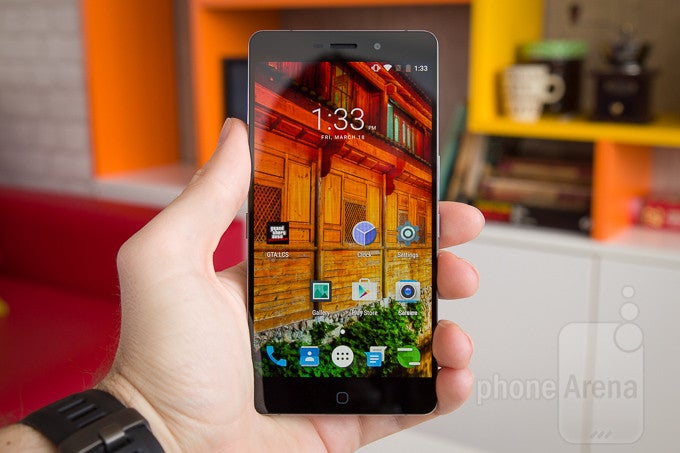 This story is sponsored by Elephone. PhoneArena's opinions in this article have not been affected in any way!
Chinese brand Elephone has yet another hopeful in its smartphone lineup – the P9000. This is an upper mid-range model, priced a bit over $250, that aims to offer everything and a little more than what a budget-conscious buyer expects from a handset. At a glance, the P9000 has it all – nice design, a big screen, up-to-date specs and software, a decent camera, and an affordable price tag. Let's see if Elephone is able to deliver on the P9000's potential, then!
Design
The Elephone P9000 presents the interesting combination of an anodized aluminum frame and a back panel with a sandpaper-like texture that may be familiar to some from OnePlus' products. It makes for a design that's unconventional, but attractive, and with the way the phone's built, it doesn't feel cheap or flimsy! There are no creaky or shallow spots to complain of. Thanks to its thin screen bezels, the P9000 is impressively compact, considering its big, 5.5-inch display. It also feels fine in the hand with the back panel's texture and gentle curve.
The touch-based Home button, which is also home to the notification light, is arguably clever. Tap it once to go Back, tap twice to return to the Home screen, or hold your finger to get the Recent Apps menu. But its placement is such that errant taps on it happen quite easily, instantly distracting you from what you're currently doing.
Fingerprint scanner
Indeed, there's a fingerprint scanner on the Elephone P9000, which is still a rarity among devices in its price range. It's positioned on the back, right below the camera lens, and it's rather simplistic: a plain circle that isn't decorated or separated in any notable way. Still, finding it by touch isn't too difficult, once you get used to it. The scanner isn't flawless, or as quick as those of premium handsets, but it does the job reliably enough. You can unlock the smartphone with it and authorize mobile payments via NFC shopping terminals.
Display
The handset has a 5.5-inch, 1080p-resolution IPS LCD screen. It's made by LG and it looks pretty good! Also, we're really fond of how compact the handset is, despite the spacious screen real estate. Function-wise, there's a gesture control feature that lets you draw shapes on the screen while it's powered off to activate certain features. There's also the built-in MiraVision tool, which lets you make various image adjustments, such as contrast, saturation, sharpness, and color temperature. This way, you can really tune the display to how you like it.
Interface
The international P9000 model ships with a clean build of Android 6.0 Marshmallow. Excluding Elephone's enhancements, which thankfully don't get in the way, the vibe is that of stock Android running on a Nexus phone, which is fairly smooth and straightforward.
The lone button on the P9000's left can be set to run any of the apps you have installed, or simply left to act as a 'mute' key. We find it convenient for that and quickly launching the Camera app to snap some photos. It's a nice feature to have.
Other niceties added by Elephone are a download booster, a pocket dial prevention toggle, flip to mute, toggling the Android nav bar on and off, excluding specific apps from background process cleaning, and scheduled power on and off. We'd rather have such options, than have our smartphones loaded with bloatware.
Processor and Memory
The Elephone P9000 presents an upper mid-range spec sheet, with the MediaTek MT6755 Helio P10 processor and 4GB of RAM at its heart. The chipset includes an octa-core 2GHz CPU and an ARM Mali-T860 GPU. There are 32GB of expandable storage memory, which is definitely generous at this price point.
These specs sound impressive on paper and the P9000 feels quick and responsive in everyday use or when playing casual games. You won't be able to max-out intense games like GTA: Liberty City Stories and enjoy smooth framerates, but if you can reduce the amount of detail and effects, they will be playable as well.
Camera
There's a 13MP Sony camera on the P9000's back, adorned with a dual-LED flash and laser autofocus. On the front, there's an 8MP selfie cam.
The camera app is fairly simple, but it's not missing out on any features that most users would expect, such as scene modes, white balance settings, image properties adjustments and the like. There's also the ability to save photos in raw .dng format, along with the option to take a photo from both cameras simultaneously.
Expectations
At $270 prior to shipping costs and import taxes, the Elephone P9000 is a well-rounded proposition. It looks and handles well with its compact design, sturdy metal frame, and smooth, yet grippy back. For the price, it presents a very capable set of specs which, bar complex 3D games, will let you have a decent Android experience. The fingerprint scanner's presence is a nice surprise, as it is rare to non-existing among phones at this price point.
The Elephone P9000 is among the few smartphones that feature a fingerprint scanner at this price point.
Now, we can't say the P9000 will be our first choice if we had to shop sub-$300 smartphones, considering there are options like the $250 OnePlus X. Moreover, the LTE band support is somewhat limited, which means you can't rely on fast 4G internet in many parts of the globe.
However, Elephone did let us know that a P9000 version with US LTE bands support will be available in May. This would make the Elephone P9000 is an interesting and competitive proposition for stateside customers, especially if you demand fingerprint security and lots of RAM. Moreover, the company will release the P9000's kernel source next month, giving enthusiastic developers a chance to make what they wish out of the powerful hardware.
The Elephone P9000 will ship in early April, with a selection of optional accessories available for sale as well. There's a wireless charger ($15), a 12V fast charger ($15), a tempered glass screen protector + smart case ($15), a clear case (bundled with the phone), and a quick charge data cable ($10). These work as expected, but don't stand out with design or other notable features.
Also read: