Dude, it's a Dell Android smart phone!
This article contains unofficial information.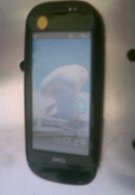 After much talk and speculation, it looks like someone may have taken the first snapshot of Dell's Android phone. No official word whether this in an authentic preview of the PC maker's foray into Android, but most likely not finalized. The design is eerily similar to some recent highly prized devices – not to say that the form factor isn't a bad thing. Based on the image, it is running the Chinese version of Android which also has no visible buttons on the front side. Typically Android devices should have a Menu, Back, Home, Send, and End button. We'll just have to wait and see when Dell decides to let this out of the bag. Until then, rumors are hinting that Dell plans on releasing the Android powered phone by the end of the year.
via
AndroidGuys