Dual-Screen Kyocera Echo on sale today at Sprint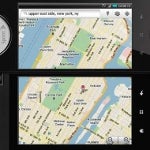 The dual-screen Kyocera Echo is being launched today by Sprint. The device got off to a poor start when the Sprint faithful gave it a lukewarm reception
when it was introduced
. Back then, Sprint customers were hoping for the announcement of a high-end Android device and were taken back by the unique device they were shown.
The Kyocera Echo does have some meat on its bones-a 1GHz Snapdragon chip is on board, a 5MP camera on back, and Android 2.2 under the hood. The display is where the action is, however. Two 3.5 inch screens can be used in various combinations including as a single 4.7 inch display. Both screens have a 480 x 800 resolution.
Sprint is offering the Echo for $199 after a $100 rebate and a signed 2-year pact. Will the phone get a better reception from Sprint customers now that it has been launched?
source:
AndroidCentral