Dolphin Browser for Android updated – drops "HD" from name
9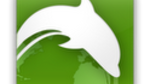 Popular mobile web browser, Dolphin Browser HD, has undergone yet another update on the Android platform. The latest release brings the browser up to version 8.7.0 and drops the "HD" from its moniker.
The name change isn't the only thing included with this update. The bookmark deletion processes has been made easier, dolphin connect is now faster and more stable, there is an easy access shortcut to dolphin sonar from the homescreen, the address bar now has a cleaner design, the landscape keyboard view has been optimized for some devices, and, of course, there are "various stability and performance improvements."
The update went live yesterday and requires Android 2.0.1 and up. You can head on over to the Google Play store to update Dolphin Browser right now.
Recommended Stories