Diversity of the form-factor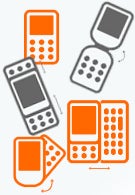 So, what is your thing? A classic candybar, clamshell or slider handset? The outer design is one of the first things we notice about a cell phone and often, turns out to be the decisive factor that determines our choice. Of course, major part of it is the physical form and shape; sometimes it creates unique opportunities for designers, but just as often imposes certain limitations. That´s exactly what we will be talking about in this article. So, the form-factors that are currently considered mainstream on the market are:
• Candy-bar
• Clamshell
• Slider
• Rotating
• Flip
Let´s take a closer look...