Disney's JellyCar 3 makes its squishy debut on Android
3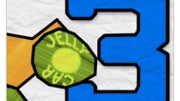 Jelly Car 3 has just recently made it onto Android's Google Play store and it brings a ton of squishy levels for you to ride in with your squishy car. The game is made by Disney and comes to Android after being available on the Apple iPhone and iPad for quite a while, but at first you wouldn't be able recognize it as a Disney game with its graphics straight out of a child's textbook.
Jelly Car 3 comes with 50 levels filled with platforms, objects and special effects. You also get to create and draw your car, save replays and most importantly - race against friends and the best times from the web.
The game only costs a dollar to download, and it definitely seems like one fun way to spend your buck, so take a look below.