Discounted iOS games – we've got 8 great ones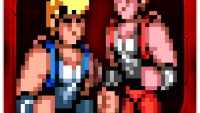 Ahoy, game hunters! You'll have to excuse the excitement, it's just that this week's discounted iOS games have us grinning from ear to ear.
We covered some of these 2 weeks ago, when publisher DotEmu slashed its prices in the Play Store. Well, looks like iOS users haven't fallen out of favor with DotEmu, as it has now discounted some of its revived classics in the App Store and they are simply a steal.
Check this week's iOS pickings below, let us know what you've tried and how you liked it. Happy gaming!