"Dingleberry" now available for your PlayBook rooting pleasure
4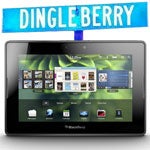 Last week we posted some
videos of a rooted BlackBerry PlayBook
from the collaborative minds of Neuralic, Xpvqus, and Cmwdotme a.k.a. Chris Wade. Now, the development team behind the jailbreak tool, Dingleberry, have officially released the beta version on their project website.
As we previously reported, the trio states that the a Dingleberried PlayBook is able to stream content from Hulu and a Dingleberried Playbook running the 2.0 beta can run the Android Market and install APK files without having to convert them into BAR files.
RIM has already proclaimed that they would release a patch for the
PlayBook
as soon as a jailbreak was released. As expected, the developers responded by saying they will work on the next version of Dingleberry as soon as RIM patches the PlayBook. We can already see where this is headed.
source:
Dingleberry
via
BBOS